Your Seatrobot event includes a dedicated CHECK IN page for keeping track of the guests who attend your events. The CHECK IN page has been designed to display clearly and effectively on either your laptop computer at the event or on an iPad or tablet.
The CHECK IN page gives you the ability to perform the following functions:
1. Display all confirmed guests in your guest list
2. Search for any individual in your guest list
3. Mark any guest from your Guest List as checked-in
4. Edit the personal details of any existing guest
5. Add existing from your CONTACTS database to your Guest List and check them in
6. Add new contacts to your event and CONTACTS database, and check them in
7. Swap an existing guest for another guest (assigned seats events only)
8. Print a badge label for any guest
Using CHECK IN
When you open the CHECK IN page, no guests are displayed. You have three options:
1. View All
The View All button displays all the confirmed guests in your Guest List. Toggling the 'OFF' toggle on their row to 'ON' checks them into the event, and sends them the Check-In Confirmation Email.

2. Search for an individual
In the left hand top search bar, start typing the name of any guest. All available matches will drop down beneath your search. Clicking any of the names will display that guest in the table, so you can check them in as above.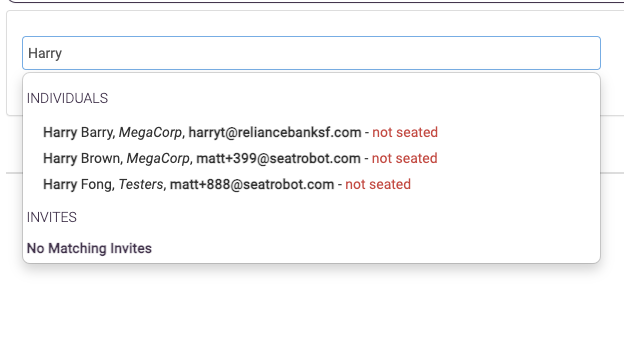 3. View Available
Clicking the 'View Available' button will display an empty guest row for every available, unused seat in your event. Clicking on the +person icon allows you to add a contact from your CONTACTS database, or a brand new contact, to the event and check them in.

Read CHECK IN - MORE FEATURES For more information on using some of the additional features of CHECK IN.