For each event, Seatrobot provides one Default Invite email template and one Default Confirmation email template. If no other action is taken, the content of these templates will be used for every Invite sent out - and for every confirmation sent whenever somebody registers for the event, or accepts an Invite to the event.
(See this article to learn how to edit the content of the Default Invite & Confirmation templates)
However, if your event has multiple registration options (e.g. different ticket types, different registration levels, in-person / virtual hybrid events etc.) you may wish to create different Confirmation Emails which can be sent automatically to people who register, depending on which registration option they choose / purchase.
Example - Hybrid In-Person / Virtual Event
Jane is organizing a company Summit. It is free to attend for invited guests. It will be held in a hotel Conference Room and will also be streamed simultaneously over Zoom as a webinar.
She wishes to let participants choose whether they would like to attend the Summit in-person at the hotel, or online via webinar. To allow this choice, she goes to Packages and edits the default 'Register' Package name to 'In-Person Attendance', and also creates an Alias for the Package which she calls 'Virtual Attendance'.
(related articles: What Are Aliases? and Packages - Creating Aliases )
Now, her Registration page for the event will have two registration option buttons, as below: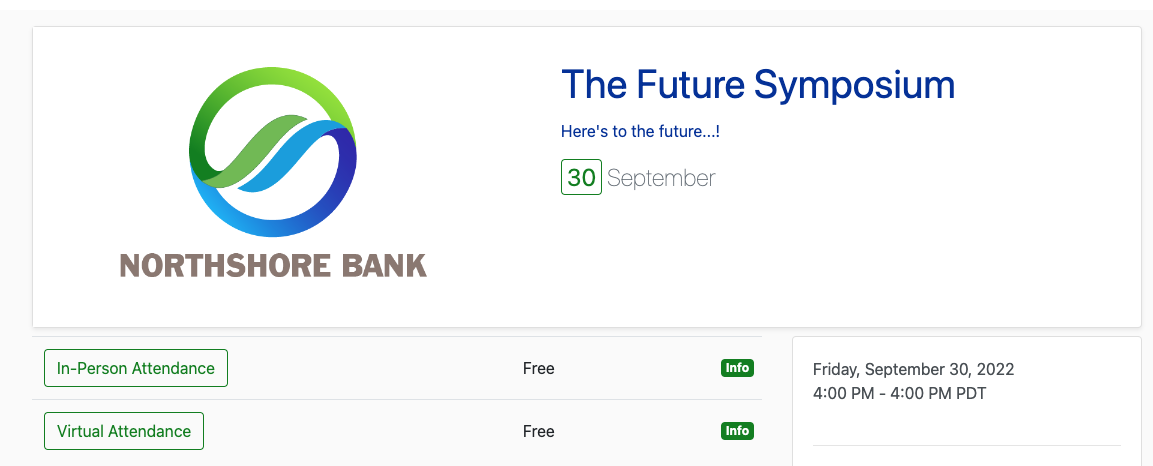 Now that guests can choose whether to register for in-person or virtual attendance, Jane would like Seatrobot to send a different Confirmation Email to the guests, depending on their choice: one for in-person attendees containing information on the hotel, location, parking, directions etc.; and another for virtual attendees containing the Zoom login details.
Next, she goes to the Emails page. She opens the Default Confirmation email template and edits the content to include all the hotel details (leaving the 'Your registration Page' link / button). This confirmation will be for everyone who chooses the 'In-Person' option. Then, she clicks the 'Copy' icon on the Default Confirmation email row:

This opens up an email template: she gives it a new subject line and and internal name 'Virtual Attendance'. She removes the hotel details and inserts the online login details instead, and clicks Save: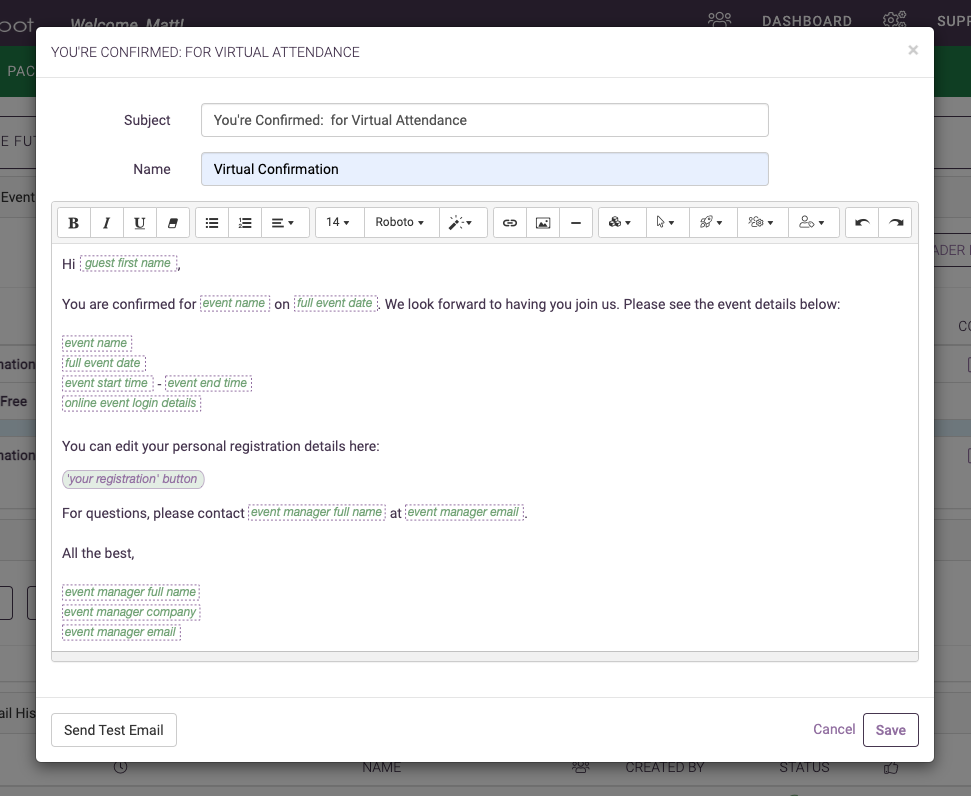 Now, the new Confirmation Email displays in her list of Default templates:

Lastly, Jane goes back to Packages, and opens the 'In-Person Attendance' Package she edited previously. She can see that the Default Confirmation is already associated with 'In-Person Attendance', so she does not have to change anything there: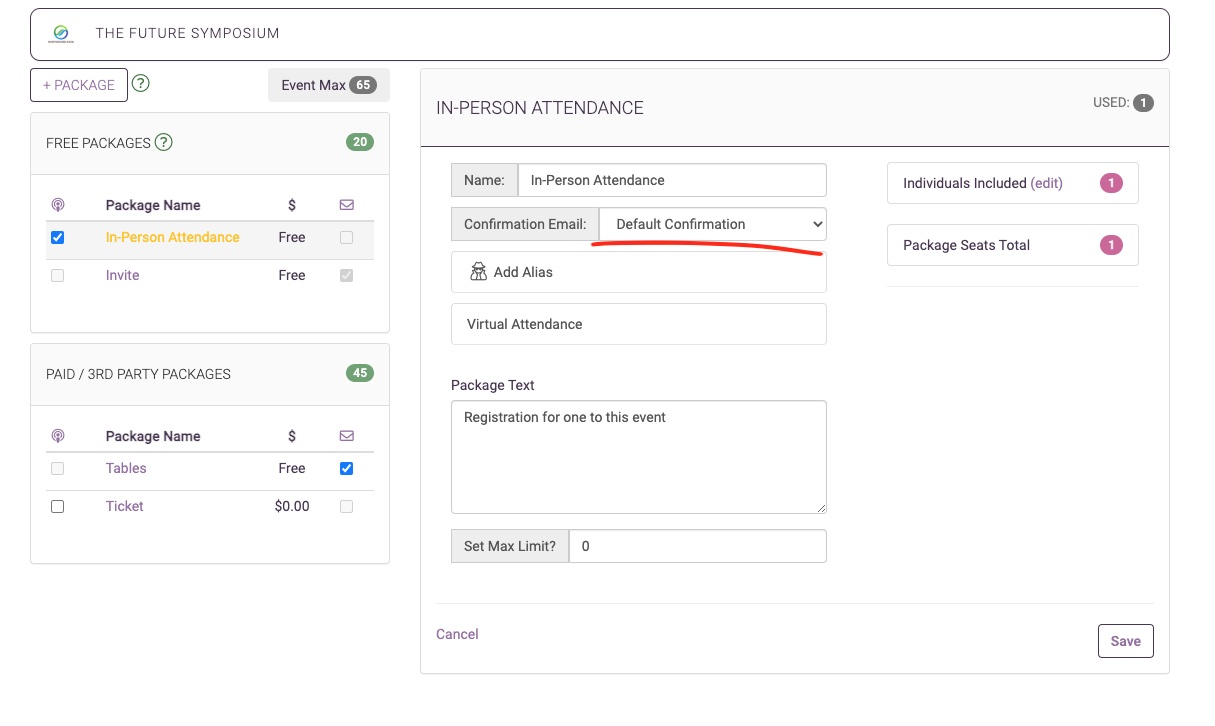 She then opens the 'Virtual Attendance Alias she created before: using the dropdown, she selects 'Virtual Attendance' as the Confirmation Email that will be sent to anyone who registers using the Virtual Attendance option and clicks Save: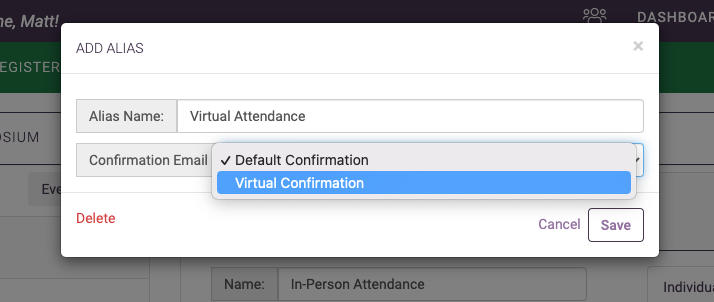 Lastly, she clicks Save on the entire Package: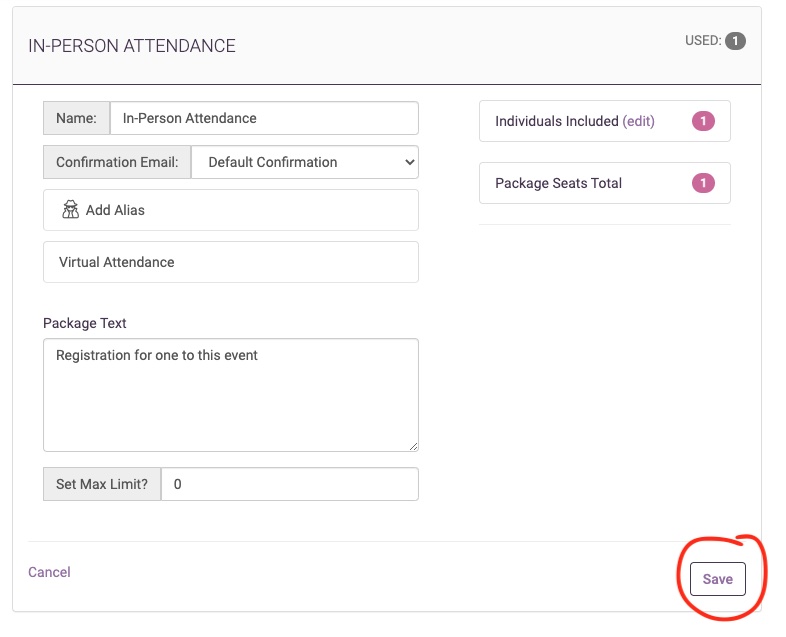 Now, a guest who registers using the 'In-Person Attendance' button will receive the Default Confirmation email, and anyone who registers using the 'Virtual Attendance' button will receive the 'Virtual Attendance' Confirmation Email.