Yes. For all paid events you will need to edit the default Ticket (to at least give it a price) and for 3rd Party Events you will create your own 3rd Party Packages to serve as different types of Tickets or Sponsor Packages, or to add to Invite emails.
To create a new Ticket or 3rd Party Package, click the New Ticket / New 3rd Party Ticket button to display the ticket creation panel. Below is an example of the panel, filled in for a new ticket: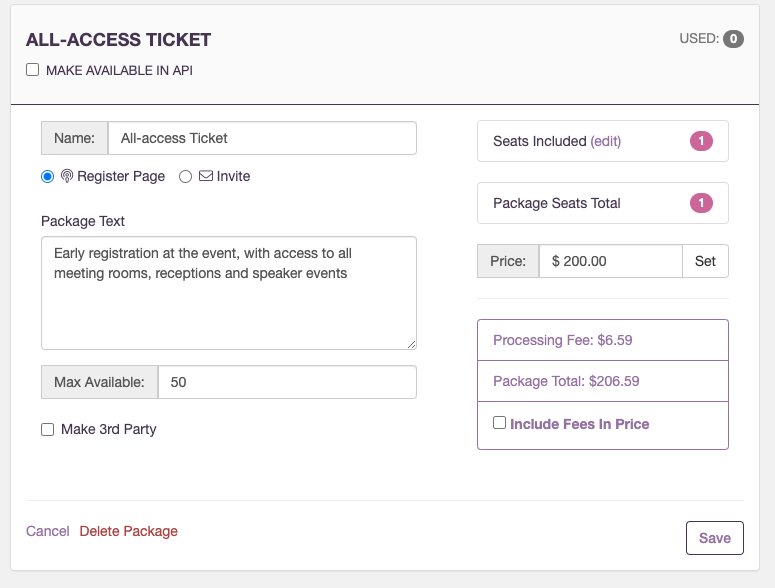 Give your Ticket a name. If used on your event's Register Page, this name will be visible to your ticket purchasers.

Define how many seats are included. This refers to how many seats / registrations each ticket holder will receive. e.g. if this number is set to '2', buying one ticket will give the purchaser two seats at the event.

Select whether the Ticket is to be displayed on the Register Page, or used internally to add to Invites you send.

Add Text. This is a description of what the registrant / purchaser receives for their registration / Ticket. If used on your event's Register Page, this description will be visible to your ticket purchasers when they click the 'Info' button.

Set a Price. For Register Page Tickets this will be the price per Ticket that purchases will have to pay. For Invites, this acts only as an internal guide price for you as all Invites are free.

Select the Max Available. This is the maximum number of these Tickets that can be used. Once this number is reached, no more will be available. On the Register Page the Ticket will be marked 'Sold Out'.

Choose to show / hide the Ticket Fee. For paid tickets Seatrobot applies a processing fee. You can decide to have your purchasers pay this fee in addition to the face value of the Ticket, or opt to have Seatrobot deduct it from your Ticket price without affecting the purchaser.

Click Save.
Note: Packages you create and save will not appear on your event's Register Page until you toggle them 'ON'. Click here for details.
The images below show how the above Ticket Package displays on the event's Register Page: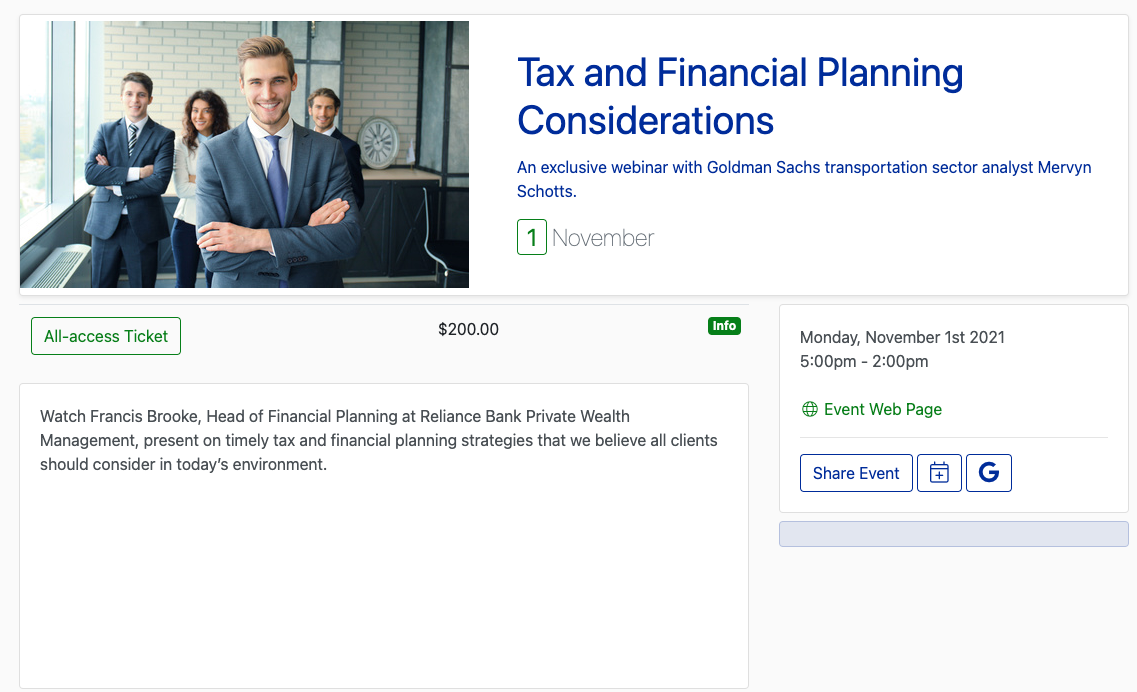 Clicking the 'Info' button displays the Package Text: