*Note: Ticketing is only available after you have registered your account for the Seatrobot ticketing module with a linked Seatrobot Stripe account. If you need help to implement Seatrobot ticketing to your account please contact us.
When you create a new event, Seatrobot automatically creates a Ticket for you in Packages. By default it is set to $0 and is not toggled ON to appear on your event's Register Page.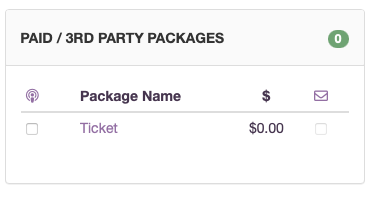 In Packages, click on the Ticket package name. This will allow you to edit the details of the Ticket Package, add a price and description and specify how many tickets of this type in total are available for sale, as in the example below: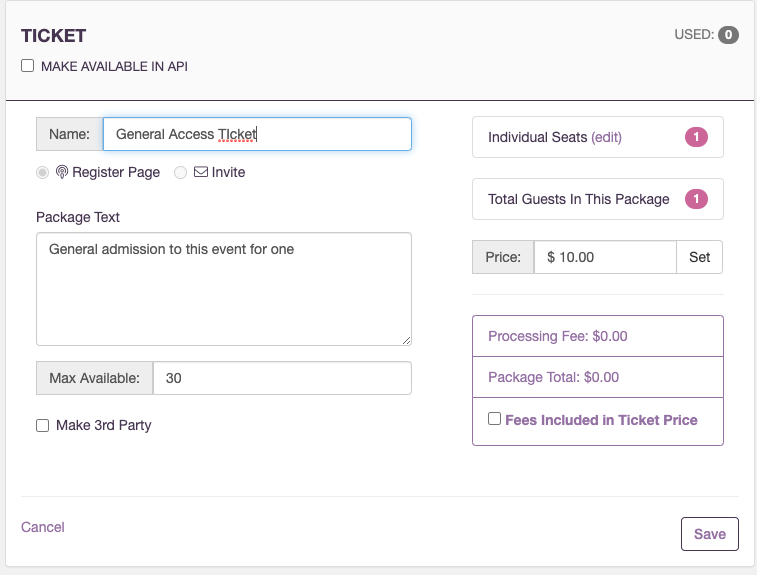 Once you have created your Ticket Package and clicked Save, the final step is to toggle the Package ON to appear on the event's Register page. (Toggle off any Packages you do not want to appear on the page as well):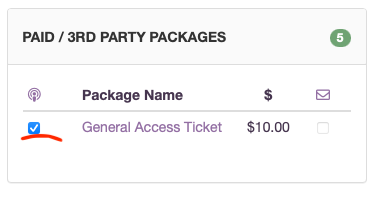 Now, if you refresh your event's Registration page, you'll see the Ticket Package you created is available for people to purchase.
You can create as many different Ticket Packages as you wish, and toggle them ON or OFF the Registration page at any time. To create 'Early Bird' tickets, create Ticket Packages to toggle ON first and others at different prices to toggle ON in their place later.