For best results, create all email content inside the email editors in Seatrobot. This way you have maximum control over formatting, images and the insertion of event macros.
Remember that the emails you send will look slightly different to every recipient depending on their email client. For example, some email programs (like Gmail) strip out most text formatting from emails and replace it with their own defaults regardless of how you formatted your email fonts in Seatrobot.
Content pasted into the Seatrobot email editor from other programs may carry with it some 'hidden' formatting and styling in its code. This can affect how your email looks when it is received. This is especially true of Microsoft Word. If you think you are having trouble removing stubborn formatting from pasted text in your email, you can try to remove the 'hidden' formatting by using the 'remove font style' button in the editor. Select ALL the content of your email, then click this button.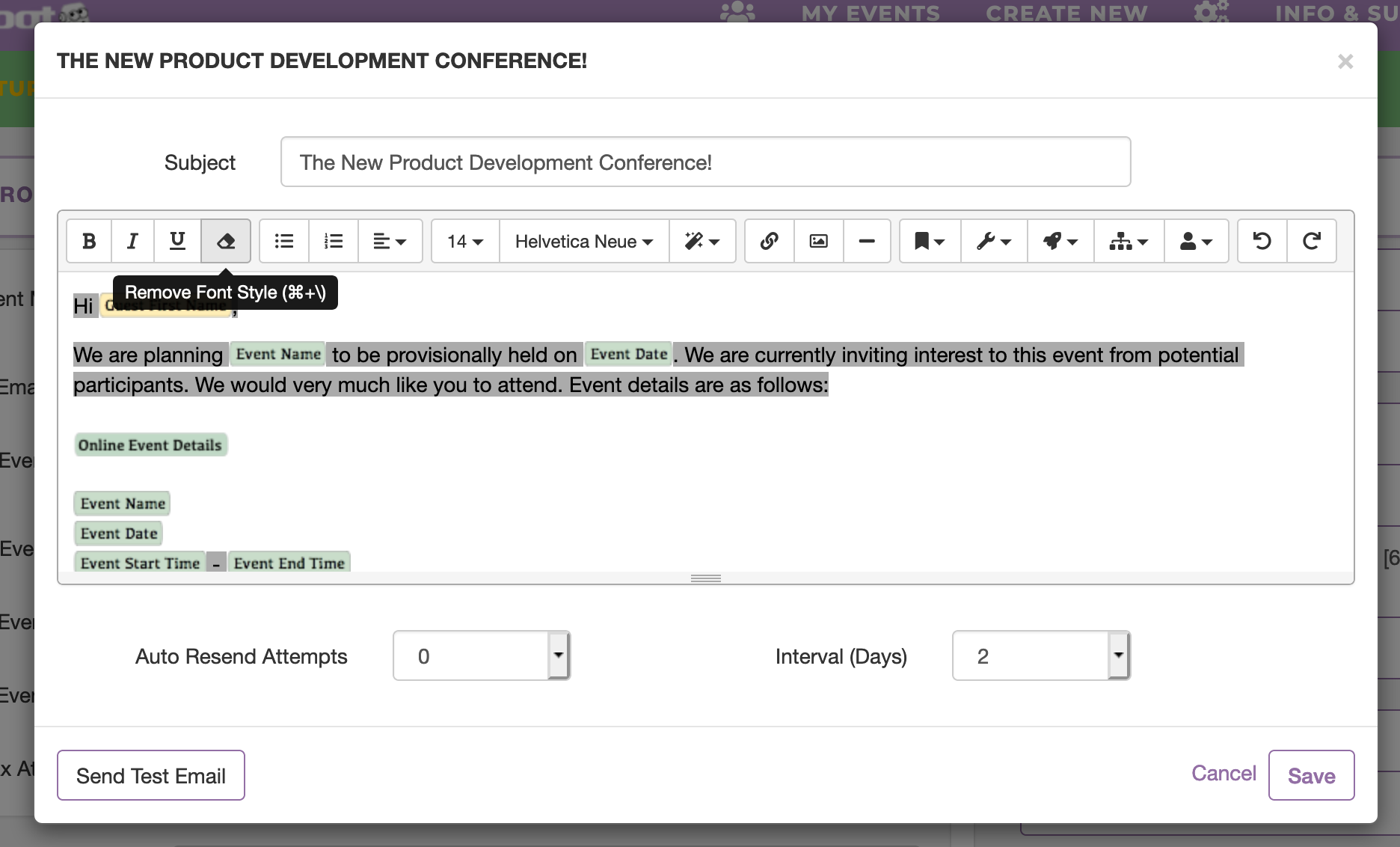 To give yourself more control over the styling of your emails in Seatrobot when having to paste text into a Seatrobot email, strip out all formatting of the text before you paste it in.
Sometimes you can do this in the program your original text comes from, by selecting the text and choosing a 'remove formatting' option.
In Microsoft Word, selecting all the text you want to copy and then clicking Ctrl+Spacebar removes the formatting. Do this, then copy the text and paste into Seatrobot.
Sometimes you may want to paste your text into a plain text program first to remove formatting. Here is a good article on how and why you might need to do this when copying and pasting text into online programs like Seatrobot.
How to Remove the Formatting in Word Documents
If you paste content into an email, always send yourself a test email before using the email in an Invite.
Warning: You cannot copy and paste the Seatrobot merge fields (macros) - they paste only as graphics, and do not insert the info into your recipient's email if you do!!!!