You can use Filters internally as a way to categorize your events in ways that make sense to your team, and make them easier to find / group.
For example, you could create a Filter Group of 'Event Managers' for the key individuals in your organization who create events. They could then apply their own Filter to each event they create and use this filtering to view only their events on the Dashboard.
Create the filter group in Admin > Manage Filters and toggle on the Filters you want to make available: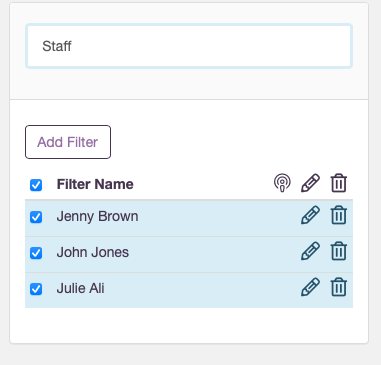 Then, to apply one of those Filters to an event, open the event from Dashboard and in Event Setup, apply a filter to the event:

In Dashboard, select the Custom Filters button to open the Filters modal. Check the Filters you want and Save. Then, when you toggle the Custom Filters view ON, your Dashboard will only display events with those Filters applied. Toggle the Custom Filters toggle OFF to revert to the all events view.