Seatrobot's CHECK IN page contains a number of additional features which may be useful when managing your event check in process:
1. Edit Guest Information
Clicking the EDIT icon on any displayed guest row opens their contact information. You can edit any field here and save and the information will be changed int he event guest record.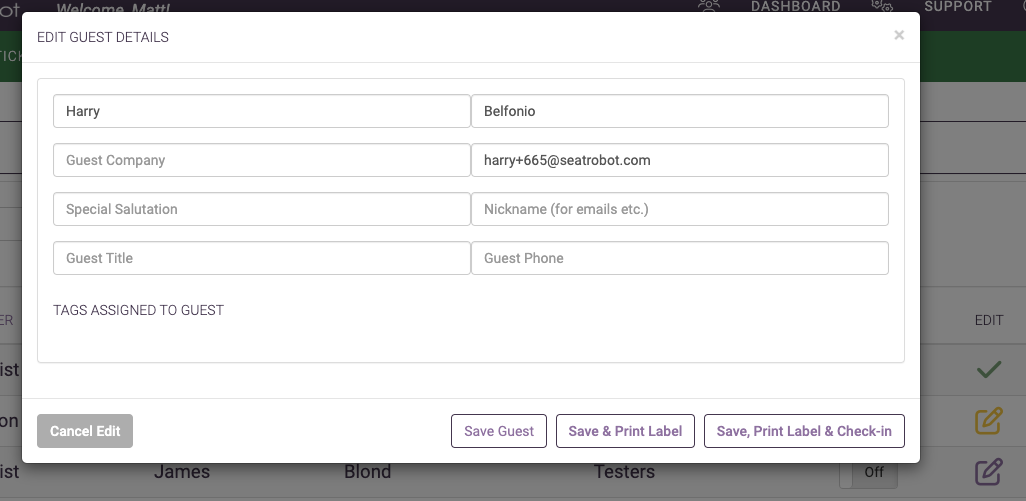 2. Checking in guests by Guest Tag
You may have categorized some of your guests by tag in the Guest List (e.g. VIP). In CHECK IN, you can view only guests with a specific tag or tags if you wanted a check-in for those guests only, for example.
To do this, click the 'Set Tags' button, then select and save the tags you want to specify: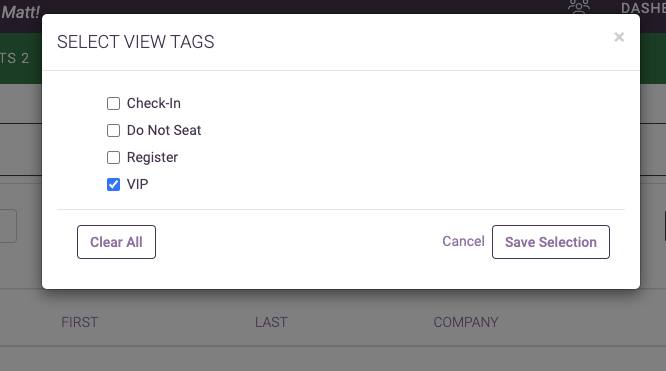 You can then toggle your view from View All to the specific tags you have selected by clicking either the 'View All' or 'View Tags' buttons.
3. Checking in unconfirmed / new guests
By default, CHECK IN only displays confirmed guests from your Guest List. On the day of your event, it is possible unconfirmed guests may arrive - such as guests who you invited but who did not RSVP, or guests not in your guest list at all but who know about your event / expect to be admitted etc.
To add such guests to your Guest List and check them in, click the 'View Available' button. This will display a green row for every available (unused) seat at your event.
Click the +person icon to open the Swap / Replace Guest box.
Start typing the name you wish to add in the search field. You will see a dropdown of all matching contacts from your CONTACTS database. They will be colored as follows:
green: confirmed guest in your event Guest List
orange: unconfirmed (invited / waitlisted / declined) guest from your Guest List
black: contact from your CONTACTS database, not currently in this event.
Click on any name to populate the fields, then click one of the Save options below: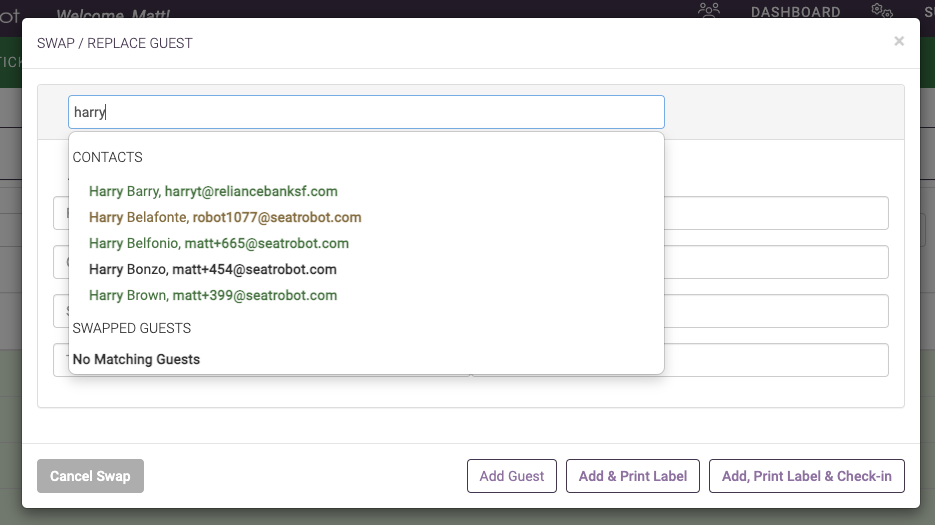 4. Print guest badges
See related articles on printing badges from Seatrobot BADGING and printing badges from CHECK IN.